I've been a huge fan of Louise's artwork for years, and around October 2011 it was with great surprise that I found that Louise had a fabulous style blog and by then I immediately knew that I had to interview her. Apart from an e-mail malfunction and an overworked/underpaid blogger we managed to talk about life, art, and everything girl and whimsical in between. It's with great pleasure, that I introduce you Louise (if you don't know her already).
Hello Louise. Please, tell us a little about youself.
I'm a freelance illustrator, working from home and running a little print store online. There isn't really a great deal to know about me, apart from my passion for books, the arts and handsome black cats. I'm a kind of nebulous person, very much inspired by dreams and imagination, which possibly explains my vocation to some extent. My interest in fashion and personal style is something of a non-guilty pleasure, an indulgent escape hatch, a beautiful distraction from the less savoury, harsh realities of this world.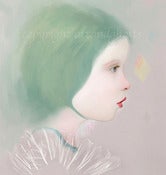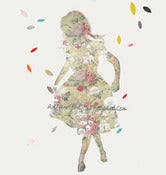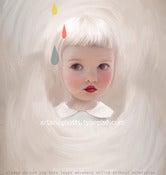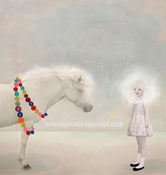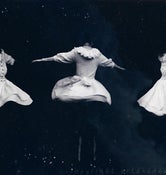 I have been a huge fan of your atwork for years! When did you first become interested in art?
Thank you! I first began to dabble in my early twenties, when I studied a photography diploma at a local college. Prior to this I had always cherished a desire to become a fiction/essay writer or a psychologist. Discovering a passion for visual art enabled me to merge all of these interests into one field, so to speak, which inspired me to create images that contained dark little narratives, imaginary characters, etc (I went on to study FIne Art & Photography at uni). I have always been interested in dreams, mythology and symbolism, which also form the most common, underlying themes in my work. In a way, I am still trying to translate the stories/film scripts which I will never write, so the visual art is a kind of substitute for that - which may seem like a negative thing, but it has turned out to be just as rewarding.
What inspires you in terms of style?
I don't really possess a clear picture of what inspires me, exactly. Perhaps an amalgamation of many different things. I am drawn to simplicity, for the most part, yet there is this hidden, more extravagant part of me which likes to fantasise about floating around dressed as an extra in the movie 'Picnic at Hanging Rock'. My own style has seen a few alterations over the past 5 years or so, although I still feel as though it is something of an ongoing process rather than something which will ever find completion. Perhaps this is part of the fun? Nevertheless, I have become a lot more focused upon the shape and quality of my clothes, ethical production methods and locating items which are the focus of a strong desire as opposed to a passing whim. I'm very much in favour of the 'less is more' concept, and find myself drawn to pieces which surpass trends, more 'classic', even demure items…..understated yet polished. This is what I aim for, but I have no idea if I'm doing it right!
I know you love A.P.C. What other brands do you have a crush on?
There aren't many at the moment! I still really love the APC look, although I am a little bemused by what I have recently read about the brand's policies. I am deeply in love with both Margaret Howell & Phoebe Philo's aesthetic, and have developed a growing appreciation for
Toast.co.uk
especially their policies regarding the use of animal products, and their knitwear is divine! I'm not altogether enamoured by big name brands, generally speaking, but I will admit to occasional (and irrational) flirtations with Chanel, and perhaps Commes des Garcons (the Play cardigans and cotton shirts in particular). Regarding beauty products: for hair - Kerastase, for skin & bath -
Aesop
, and for fragrance -
Byredo
parfums.
Are you coveting any special garments or accessories this Winter?
I'm a little late to the winter season! I had been coveting a light grey CDG Play cardigan which arrived this week, some Toast nightwear/loungewear (you can never underestimate such things when you work from home!) and the perfect, black pencil skirt or two (which eventually came from Zara and Whistles). I am just about complete for the coming spring, except for a few very plain basics…white/grey/black tees and perhaps a pair of sandals. I'm hoping to minimise spending on clothes until at least autumn, which will more than likely see me resume the arduous task of locating the perfect pair of jeans. I tend to mix the seasons up a little, for living in the UK we usually wind up having to wear our autumnal garments through the middle of summer, haha! So I imagine my current collection of jumpers/sweaters shall see me through to July!
Can you share with us a beauty trick or two?
I only have the one. It is a haircare 'trick'…or perhaps much less of a trick than a revelation. I have always blowdried my curly hair straight (I avoid irons like the plague), and have naturally rather frizzy, porous hair which tends to poof out at every opportunity, regardless the quality of the products that I use. I actually found a solution to managing unruly hair via the hairdryer itself, as opposed to the actual products. This came in the shape of a Parlux salon hairdryer, which although rather expensive, creates a similar effect to just having visited a salon, leaving my hair quite sleek (for me) and super straight without the stress of overheating or heavy reliance on product. Sounds boring, but so, so essential, and has pretty much revolutionised my relationship with caring for my hair.
Do you have a favourite song?
Right now, anything by Austra, particularly 'Feel it Break'.
Where do you see yourself in 5 years?
I have no idea! But I am looking into opening a little brick and mortar store (perhaps locally) in which to frame and sell my artwork: cards, posters, giftwrap, etc. I already outsource many of my images to boutiques around the world, and have been coveting this desire to branch out on my own in the not so near future. I would also love to return to uni, to study psychology, but I am not so sure that this will be financially viable on my current income (It would require over £30,000 for fees alone). I guess my future is still something of an open door, really, for I don't have children (I'm in my 30's) and have recently become single…kind of exciting and terrifying at the same time.